You can order SHAEDES OF GRAY at the following retailers:
B & N | Powell's | Amazon | Indiebound | Books-A-Million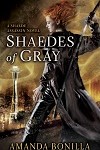 Darian has lived alone for almost a century in the shadows of the night. Made and abandoned by her former love, Darian is the last of her kind—an immortal Shaede who can slip into darkness as easily as breathing. With no one else to rely on, she has taught herself how to survive, using her unique skills to become a deadly assassin.
Darian finds herself struggling to keep her employer Tyler at arm's length, especially since his seductive smile makes her want to break her rules about love. The work he offers is necessary to protect the innocent—and a welcome distraction. But when Darian's next mark turns out to be Xander Peck, King of the Shaede Nation, her whole worldview is thrown into question. Darian begins to wonder if she's taken on more than her conscience will allow, but a good assassin never leaves a job unfinished…
TOP PICK 4.5 Stars 
"It is always a pleasure to discover an excellent new author and series, and Bonilla qualifies on both counts. The debut of her Shaede Assassin series features a tough yet compelling heroine. Full of fascinating characters, high-stakes intrigue and fast-paced action, it's a truly exhilarating adventure! Do not miss out!"
~ Romantic Times Book Reviews
Click on a retailer to pre-order BLOOD BEFORE SUNRISE (Shaede Assassin #2) 
Amazon  |  B & N  |  Book Depository  |  B-A-M  |  Chapters  |  IndieBound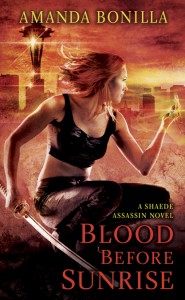 For months Darian and her Shaede guardian Raif have searched for the Oracle who attempted to overthrow the Shaede Nation—and kill Darian in the bargain. But now that they've finally found the half-crazed Oracle, for their efforts they are granted a possibility too painful for Raif to imagine, and too enticing for Darian to ignore.
Darian is determined to reunite Raif and the daughter he thought was dead, but her mission quickly proves dangerous when her lover Tyler is almost killed. And when a brooding and mysterious Fae warrior offers his guidance—at an extraordinary price—Darian finds herself willing to risk everything. As her single-minded hunt turns into an obsession, and she and Tyler grow further apart, Darian finds herself caught between the man she loves like a brother, and the man whose love she can't live without…
Coming July 3rd 2012 from Signet Eclipse.
Add this book to your GoodReads list.
ISBN-13: 9780451237460
ISBN-10: 0451237463